About Street Angels
How did we get here and where are we going
When you're going about your life
and God lays it on your heart to be
a blessing in His name, you can't
ignore the call he places on your
life. This is how Street Angels was
born and our story continues to
grow.
…whatever you did for one of the least of these brothers and sisters of mine,
you did for me. Mat 25:40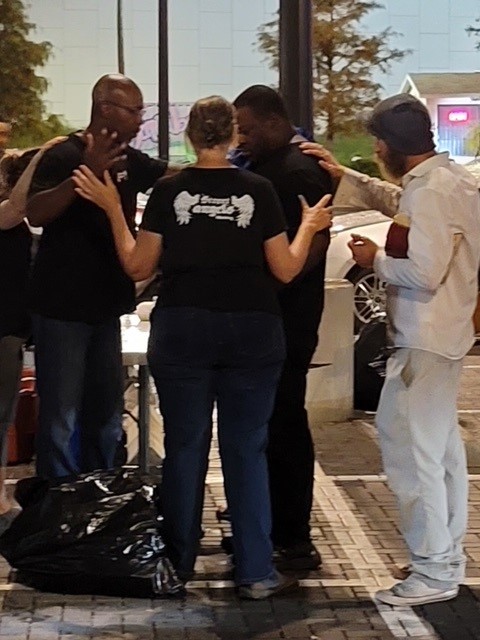 Our Story
What started out as a compelling call to our spirit to simply feed the hungry and bless them spiritually in Jesus' name has grown into feeding hundreds every month. It began one day when we went to the auto parts store on our motorcycles. We saw 6 people hanging out by the tree, near a parking lot in Gibsonton. I felt led to "go ask them if they're hungry". I did and they were, so we went home heated up all the food and leftovers in our fridge, and took it back to them. This grew to then cooking dinners for a large group of people every Thursday evening, serving them out of our vehicles, hot, prepared meals. Over time the volunteers, donations of food, and resources had grown to the point that it became clear that God had a bigger plan in mind.
Where We've Been Led
We have completed the total restoration of a 24′ trailer for mobile ministry. The trailer facilitates a virtual/mobile church for our monthly events on the last Thursday of every month. The trailer enables us to haul chairs and tables for real sit down meals, music equipment, which allows us to have small, short services wherever we are ministering, speaking about the gospel of Christ, yet follow that with also addressing their physical needs of clothing and other personal hygiene items that are so crucial to many who have nowhere to sleep.
Above all, we provide relationship, companionship, and the love of Jesus, which is the ultimate solution to the fears, hurts, financial and emotional challenges that so many are facing today.
Food & Donations
We are always accepting food, clothing and hygiene item donations to give directly to those in need. If you have any information on local organizations or businesses that would like to connect with us please contact us and let's chat
Volunteering
Every Thursday we mobilize our team of volunteers to make a real difference. Join us and see what can be accomplished when you get an impassioned team to focus on change. Join Us
Community
Our community is full of people who want to help. We work to help the people providing services with the people who need them. Come connect with people in new ways.
The Trailer Story
It started as a question during a board meeting "how can we reach the people better?" The answer came from one of our board members "why not get a trailer to be a mobile ministry?" We had a limited budget so we prayed about it and asked God for direction. We found an old car trailer, but we knew it would require a lot of hard work and God's help. We were amazed at the amount of friends and people that believed in our ministry and were eager to help. What happened next was a miracle…. Everything was donated all the labor and materials. It took 4 long months, hundreds of hours of labor, and the help of 10 friends to completely remodel the trailer inside and out.
We knew from the very beginning this was HIS ministry and he is in control, we are just blessed to be a part of it!